Athletics is an integral part of our Key West community.
Our student athletes show their dedication and determination on the playing field and in the classroom.
Join us at our athletic events and see Conch Pride in action!
Check out the calendar and team schedules below for upcoming events.

GO CONCHS!
Tickets for Home Events are available through our digital ticketing platform. Click on Event Tickets at the top left of this page.

Please see the Weekly Schedule below for updated game times. All Highlighted events are changes that have been made.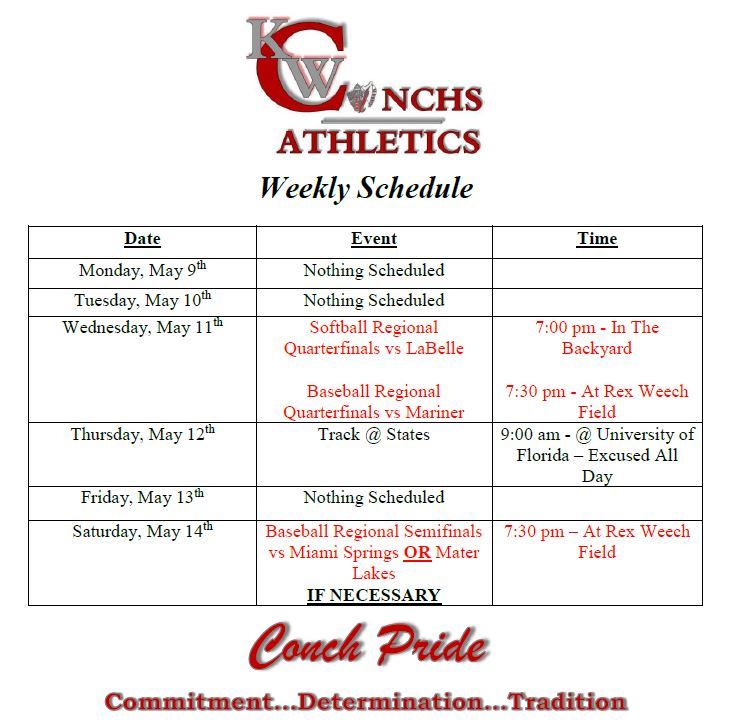 Athletic Forms for Key West High School Athletics

Athletes and Parents – We are moving to an online clearance process through www.AthleticClearance.com. This will replace the hardcopy packets/clearance card system previously used. All required athletic forms must be completed online. This includes all students who have turned in forms via email, mail, or in person.

Please be prepared with the following items to complete your submission:

To register for Athletic Clearance, a student identification number is required. This number can be found by visiting the Focus Portal.

The steps to view a student identification number are as follows:

Please log in to: https://monroe.focusschoolsoftware.com/focus/?skipSAML
Once you are logged in use the menu on the left to select My Child Info.
Student's ID can be found under their picture. Insert the full 10 digit number beginning with 4400****** when registering with Athletic Clearance.

Students must complete and upload certificates for the three required courses through www.NFHSlearn.com.
Students must upload a copy of your insurance card. If your child doesn't have insurance, you can purchase insurance. Click here to sign up online: K-12 Enrollment and upload your receipt as proof of insurance.
A current physical must be uploaded or on file before participating in KWHS Athletics. Physicals last 365 days. If one was completed for one season, it may be used for another season depending on the date of completion. The FHSAA EL2 Physical Form must be completed by a physician.

To complete your physical through AHEC, call 305-743-7111 ext. 210 to schedule an in-person patient visit.
Lower Keys AHEC Schedule:

Key West High School - Monday, Wednesday, and Friday, 8am - 2pm
Horace O'Bryant Middle School - Monday to Wednesday 8am - 2pm

Athletic Clearance is accessed by following this link: www.AthleticClearance.com

There is a video on the landing page to assist you.

KWHS can assist any atthletes who have no access or need assistance throughout the process. Please contact the athletic office at 305-293-1549 ext. 54406 or contact Mr. Martin via email at justin.martin@keysschools.com.

Instructions for Online Athletic Clearance:

Visit

www.AthleticClearance.com

and choose your state.
Register. Parents register with a valid email username and password. You will be asked to type in a code to verify you are human.

If this step is skipped your account will not activate.

(If this step is skipped, please contact Athletic Clearance to activate your account)
Login using your email address that you registered with.
Select "Start Clearance Here" to start the process.
Choose the School Year in which the student plans to partiicpate. Example: Football in Sept 2021 would be the 2021-2022 School Year.
Choose the School at which the student attends and will compete for (Key West High School)
Choose Sport
Complete all required fields for Student Information, Educational History, Medical History and Signature Forms.
Optional Donation to your athletic program.
Once you reach the Confirmation Message you have completed the process.
If you would like to register for additional sports/activities you may check off those sports below the Confirmation Message. Electronic signatures will be applied to the additional sports/activities.
All of this data will be electronically filed with your school's athletic department for review. When the student has been cleared for participation, an email notification will be sent.

Questions? Go to Support.AthleticClearance.com and submit a ticket.
Conch Fans can pre-purchase tickets for all home athletic events!

OR

Scan the QR Code below.

Please note that schedules posted are subject to change due to various reasons.

Check out the Key West High Athletics & Student Activities Facebook page for updates.




---

We appreciate our 2021-22 Conch Pride Club Members!



SILVER LEVEL - $5000

First State Bank - Scoreboard Sponsor

Pepsi - Scoreboard Sponsor

Keys Energy - Stadium Lights Sponsor



CRIMSON LEVEL - $2500

Niles Sales & Service



GRAY LEVEL - $1000

Southernmost Foot & Ankle

College of the Florida Keys

Keys Federal Credit Union

Key West Golf Club

WHITE LEVEL - $500

The Law Office of Gregory Davila, P.A.


CONCH FANS/ALUMNI LEVEL



To make a donation to the Key West High School Athletic Department scan the QR Code or click the link below.

We appreciate your support!

---

Below are some links you may be interested in.


THE CONCH PRIDE STORE

Click Here to Design Your Own CONCH Gear