Return to Headlines
Monroe County School District Superintendent Mark Porter is pleased to announce that Ms. Kathleen Shriver has been chosen as the 2014-2015 District School-Related Employee of the Year from a field of over thirty nominations.  Ms. Shriver has been an employee of the Monroe County School District since September 2006 and has faithfully served as a School Bus Aide since that time.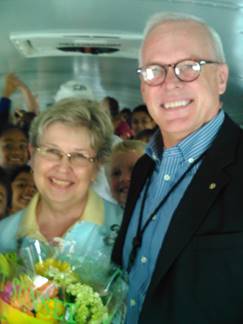 As a School Bus Aide, Ms. Shriver works in partnership with the School Bus Driver and assists with transporting students safely and comfortably to and from school.  Ms. Shriver is recognized by her coworkers for her professionalism, initiative and her patient and caring demeanor.  "Kathleen knows her students, can recognize when students are not having a good day, and often prevents problems from occurring.  She also goes the extra mile, taking the initiative to post all students pictures over their assigned seats.  This not only makes the students fell special, but helps substitute drivers and aides manage the bus." says Mr. Randy Fabal, Director of Transportation.
In addition to the 2014-2015 District School Related Employee of the Year, Mr. Porter proudly announces the following 2014-2015 School Related Employees of the Year in the following five categories: Food Services Group, Maintenance Group, Office/Clerical Group, Teacher Support Group and the Transportation Group.  School-related employees enhance the educational experience for the children whose lives they touch, and they are essential to the successful operation of a school or school district office.
The nominees were chosen for the significant contributions they have made in their schools and community, and to the school district as a whole. Criteria for the award includes exemplary job performance, dedication on the job, interpersonal skills, leadership ability, in-service/training to upgrade skills and contributions to the school and school district environment. 
The 2014-2015 School Related Personnel of the Year by category are:
Food Service Group, Gloria Suarez, Cashier, Sugarloaf School
Maintenance Group, Jorge Hernandez, Maintenance Worker, Plantation Key School
Office/Clerical Group, Jocelyn Cabrera, Data Entry Clerk, Gerald Adams Elementary
Teacher Support Group, Jane Orr, Paraprofessional, Key Largo School
Transportation Group, Kathleen Shriver, Bus Aide, Middle Keys Transportation Department
 
These employees were selected by the School Related Employee of the Year committee which has an equal representation of District staff and United Teachers of Monroe members.  "I congratulate each of the selected employees and am proud of their commitment and dedication to the students of Monroe County" says Superintendent Mark Porter.
---